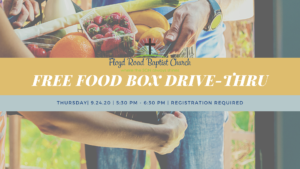 Click Here for More Information About Our Food Box Drive-Thru Sept. 24, 2020
Floyd Road Baptist Church will be distributing free boxes of food containing meat, milk, fresh fruits, and vegetables via a drive-thru on Thursday, September 24th from 5:30-6:30 PM. Please note, these are perishable items. The only requirement to receive a box for your household is that you must be pre-registered on our ticket leap site (link above) prior to the event date.
All FRBC volunteers will be wearing masks and gloves. Please know that while we are attempting to create a clean and safe environment here at FRBC, we cannot guarantee with certainty that anyone who participates in this event will not contract COVID-19.
~~~~~
La Iglesia Bautista Floyd Road distribuirá cajas gratuitas de alimentos que contengan carne, leche, frutas frescas y verduras por servicio al carro, el jueves 24 de septiembre de 5:30 a 6:30 pm. Tenga en cuenta que estos son productos perecederos. El único requisito para recibir una caja para su hogar es que debe estar preinscrito en este sitio antes de la fecha del evento.
Todos los voluntarios de FRBC llevarán máscaras y guantes. Tenga en cuenta que, si bien estamos intentando crear un ambiente limpio y seguro aquí en FRBC, no podemos garantizar con certeza que cualquiera que participe en este evento no contraerá COVID-19.