Our Awana (Approved Workman Are Not Ashamed) program meets on Wednesday nights in the Cape Center Gym from 7- 8:15pm during the school year. There are classes for K5 through 6th grade.
Bring your family and join us for supper at 6pm weekly.
Awana at Floyd Road is a great opportunity for children to have fun, play, hear the gospel, and learn God's word. Our goal is repeated every week in our pledge – that we are focused on reaching boys and girls with the Gospel of Christ and training them to serve Him.
The desire of the Awana ministry is to show children the love of God through the scriptures and teach them how to live their lives with faith and compassion for others.
Join our Facebook group to stay up to date on theme weeks and events by clicking here.
Register Your Clubber by calling Kim at the church office at 770-941-9388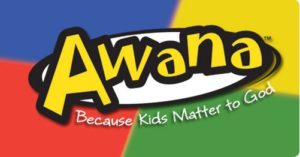 2023-2024 Calendar –
Coming Soon
"Study to show thyself approved unto God, a workman that needeth not to be ashamed, rightly dividing the word of truth."
2 Timothy 2:15
Floyd Road Baptist Church | 3996 Floyd Road, Austell, Ga 30106